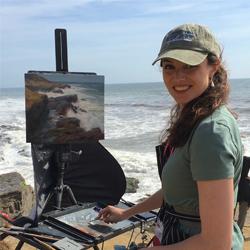 Artist's Statement
The landscape has always been my chief source of artistic inspiration. I love to capture views of rugged terrain, shimmering waves, and dramatic atmospherics.
According to my family, I began painting as soon as I was old enough to hold a brush. I enjoyed an unconventional upbringing and travelled far and wide, exploring new places and—notably—dozens of art museums. I remember being filled with awe upon viewing sites like Yosemite, the Wye Valley in Wales, and Niagara Falls.
As an artist, I try to evoke that same childhood sense of wonder through my landscapes. They represent very specific places and moments in time: the brief point during a sunrise where sun illuminates the air with an ethereal golden glow; a break in a storm where light pierces though heavy clouds; glacial ice sending waterfalls down the side of a mountain wreathed in fog. Scenes like this are real, but because they depict rare glimpses of particular beauty in the world around us, my paintings tread a fine line between the "real" and the otherworldly. A mountain may become more than a great mound of rock when we see sunlight break through dense clouds to highlight its slopes' jagged contours. At points like this, the landscape around us forms a visual drama that awakens something within us. It fills us with awe and even longing.
_________
"The sweetest thing in all my life has been the longing—to reach the Mountain,
to find the place where all the beauty came from."
—C.S. Lewis, Till We Have Faces
_________
This sense of awe, of longing, is what I hope to evoke in those who view my paintings.
Biography
Kathleen B. Hudson is a Kentuckian whose love of travel has led her to paint far and wide. She creates landscapes in oil, both in her studio and en plein air. Her style is shaped by her close observation of nature and her desire to explore light and atmospherics in the landscape.
Hudson moved from her native Kentucky to Boston in the fall of 2005 to begin an undergraduate degree at Harvard University. During her years in Boston, Hudson came to love the weathered New England landscape as she painted, studied mountain travel narratives, and led backpacking trips for fellow students. After graduating, she was selected to join Boston's Copley Society of Art, the oldest non-profit art association in America.
In 2013, Hudson returned to her hometown of Lexington and began to take part in regional plein air painting festivals. She now undertakes several national juried competitions each year, and when she's not outside painting from life, you can find her in the studio creating larger scale landscapes that emphasize the dynamic interplay of light, shadow, and atmospherics.
In 2017, Hudson received the Grand Prize in the 6th Annual PleinAir Salon for her painting "Bright Morning, Timberline Falls," which was featured on the July 2017 cover of PleinAir Magazine. The same month, Southwest Art named her an "Artist to Watch." In 2018, Hudson won the Grand Prize at Plein Air Texas and Artist's Choice at Forgotten Coast en Plein Air.
Kathleen will participate in the 2019 Paint Grand Traverse plein air painting event, held August 12-17 and presented by Crooked Tree Arts Center.
Memberships
• American Society of Marine Artists, Signature Member
• Laguna Plein Air Painters Association, Signature Member
• Ambassador, Michael Harding Oil Paints
• Plein Air Painters of the Southeast
• Copley Society of Art, Artist Member
• Oil Painters of America
• American Impressionist Society
Press
• PleinAir Magazine, June/July 2017. Cover: "Bright Morning, Timberline Falls"
• PleinAir Magazine, June/July 2018. Feature Article: "Presence of Place" by John Parks.
• Southwest Art. Feature Article, July 2017: "Otherworldly beauty."
• Keeneland Magazine, June 2018. Cover: "Early Morning in the Bluegrass"
• Lexington Herald-Leader. "Lexington painter creates award-winning work the hard way." (July 28,
2017)
Selected Honors & Awards
• Grand Prize, 6th Annual PleinAir Salon (2017)
• Grand Prize (Elta Joyce Murphey Award), Plein Air Texas (2018)
• Artists' Choice, Forgotten Coast en Plein Air (2018)
• Faculty Member, PleinAir Convention & Expo (2018)
• Faculty Member, Plein Air South (2018)
• 3rd Place, Lighthouse Plein Air Festival (2018)
• 3rd Place, Plein Air Rockies (2016)
• Best of Show, Augusta Plein Air Festival (2014)
• 2nd Place, Wet Paint Competition at the OPA National Exhibition (2017)
• Wilderness Conservation Award, Cape Ann Plein Air Festival (2017)
• Best Waterscape, Solomons Plein Air Festival (2017)