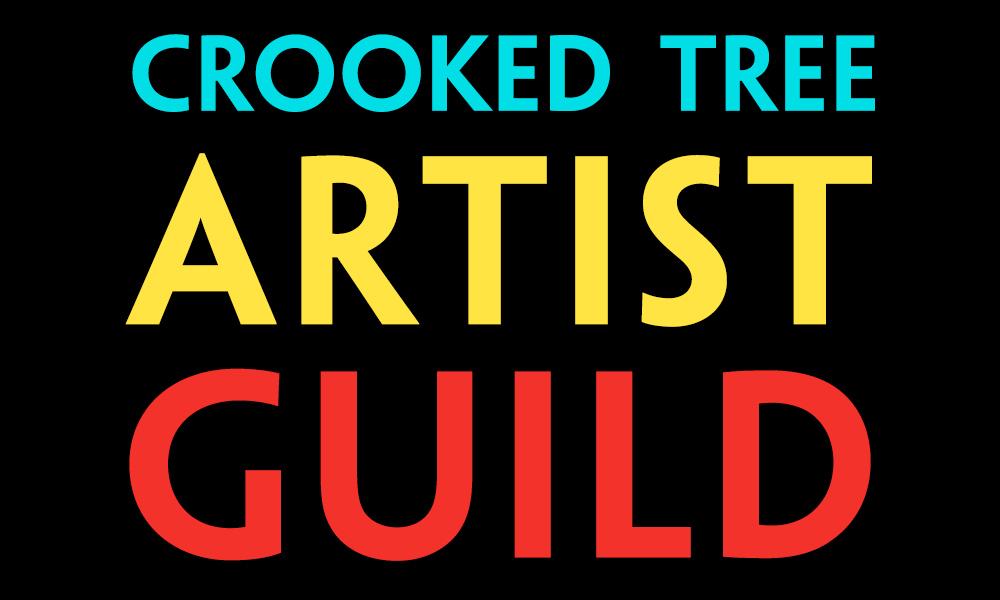 Share your work. Build your network. Grow your creative practice.
The Crooked Tree Arts Center is pleased to offer the Artist Guild Membership. Designed for visual artists working in all media, this annual membership is one way CTAC provides professional support for working artists. Artist Guild membership is $100, and over $300 in services and membership perks are included!
Benefits at a Glance
FREE entry for all Crooked Tree Arts Center exhibition open calls*
Your own page in our website's artist directory
Discounts on professional development events
Eligibility to participate in the annual CTAC Artist Guild Member Salon Show
Member rates on classes and workshops - for you and your family!
Member rates on Performing Arts Series tickets
Member rates on CTAC organized trips
10% discount on all purchases during the holiday shopping season
Invitation to member-only openings and receptions
Early bird registration for classes and workshops
*excludes markets and fairs.
---
Frequently Asked Questions
I'm an artist and CTAC Member. Do I have to join the Guild?
Nope! The Artist Guild Membership was developed for artists who can benefit from the features offered. If you would like to regularly participate in CTAC juried exhibition opportunities, be listed in the Artist Guild Directory, participate in the annual Artist Guild Member Salon Show, and receive the other membership perks, then this membership is right for you.
I already have a membership and am an artist; can I also receive the Artist Guild Membership benefits?
Yes! Membership levels of Supporting and above are eligible to receive the Artist Guild Membership benefits at no extra charge. If you would like to join the Guild or upgrade from your current membership, simply contact our front desk at 231-347-4337 so that we can set up your membership accordingly.
I just purchased or renewed my membership, but now I want the Artist Guild Membership. What do I do?
Contact our front desk and they will be able to assist you with this update.
My partner and I are both artists. Do we each need to purchase an Artist Guild Membership to receive the benefits?
Yes, both artists will need to purchase a membership. The first Artist Guild Membership will be at the full rate of $100, with each additional Artist Guild Membership for your household discounted to $50. In order to purchase the discounted membership, please contact our front desk at 231-347-4337. 
Is my Artist Guild Membership good at both CTAC locations?
Yes! Crooked Tree Arts Center has locations in Petoskey and Traverse City. (Some opportunities such as the annual Artist Guild Member Salon Show and artist professional development conference may alternate locations each year.)
---
Artist Guild Directory
What is it?
The Artist Guild Directory is a section on CTAC's website to promote the work of Artist Guild members. Visitors can browse your images, get links to your website and Instagram, read your biography, and learn where they can see and buy your art.
How It Works
After you purchase your membership, CTAC will email you a link and login information to create and manage your directory listing. You will publish your own content. CTAC reserves the right to edit content for clarity and may remove content deemed unfit for publication on the CTAC website.
Why Join?
Businesses and patrons in our community regularly reach out to CTAC to find artists for exhibition opportunities or to add artwork to their collections. By listing with CTAC, potential clients and collaborators can easily find your work and contact you directly with potential opportunities. Your directory can link to your own website, gallery representation, or Instagram feed, or use the directory alone as a way to manage your online presence.
What you will need to create your directory page:
Required:
One square-ish image (.jpg, .gif, .png. Minimum: 200x200 pixels; maximum: 2000x2000 pixels). Can be a headshot, candid shot, or picture of your art.
Biography and/or Artist Statement
At least one additional picture of your art (.jpg, .gif, .png. Minimum: 600x300 pixels) with Title, Year, Medium, and Dimensions.
Optional:
Website link
Instagram link
Email
Phone number
List of galleries where you work can be found
List of art organizations with which you are affiliated
Up to 9 additional images of your artwork
Disclaimers
CTAC reserves the right to edit content posted to the directory for clarity. CTAC may remove content deemed unfit for publication on the CTAC website.

Need Help?
Call 231-937-2377 or email megankelto@crookedtree.org
---
CTAC Exhibition Opportunities
Open Calls    
Each year, CTAC posts at least two open calls for entry for exhibitions in our Petoskey or Traverse City locations. All CTAC members receive a discount on entry fees, but Artist Guild Members can enter all opportunities free of charge.
Artist Guild Member Salon Show
Starting in 2020, CTAC will host an annual Artist Guild Member Salon Show. Each Guild Member is eligible to contribute work to the exhibition; at least one work from each participating Guild Member will be included.
Submit a Proposal
Exhibition proposals are accepted from CTAC staff, members, and the public on an ongoing basis. To find out more about how to submit a proposal, click here.
---
Professional Development
Professional development opportunities are offered at both CTAC locations throughout the year. Past topics have included trademark and copyright issues, how to photograph artwork, website building, and more. Details about an upcoming professional development conference for artists will be posted here soon!
---