About Indy Bacon, Dart for Art Featured Artist 2022

Assemblage artist Indy Bacon is an avid collector of vintage hardware, foundry molds, architectural elements, antique furniture parts, and other salvaged treasure from days gone by. These items are the materials and inspiration for the characters she creates.
Indy studied art and psychology at Miami University and the University of Colorado in Boulder, thinking perhaps a future in the field of art therapy. After graduation, she and her soon-to-be husband moved back to the Michigan-based family business where Indy worked in the print area. Spending days in the darkroom and burning plates for the press was far from the creative life she had envisioned.
Designing, producing and teaching stained glass filled the next decade. Jewelry making and pastel painting were practiced too.
But it was Indy's love of antiques and "cool old stuff" that was the inspiration for her series of "Salvagettes." The first "Salvagette" was assembled in 2001 and the passion for working in this medium continues to excite her.
Created with cleverly arranged odds and ends once lost or forgotten, Indy reimagines found objects into a collection of whimsical characters. People, dogs, birds, fish, and even elephants have joined the collection—and each has a unique personality and light-hearted story.
Her piece, Share the Branch, was uniquely created for Crooked Tree Art Center's annual fundraiser, Dart for Art. In Share the Branch, Indy assembled salvaged pieces of wood, metal, and glass to create a whimsical work of art that speaks to our Northern Michigan sense of community and connectedness. There is enough for all—if we just share the branch!
Recently, Indy and her husband returned to Colorado which will be their primary residence but they will continue to call northern Michigan home in the summers. The assemblages will come to life in the new Longmont studio but will find their way back to the Michigan galleries that have represented Indy for many years.
Share the Branch will be auctioned off onstage at Dart for Art on Thursday, July 14.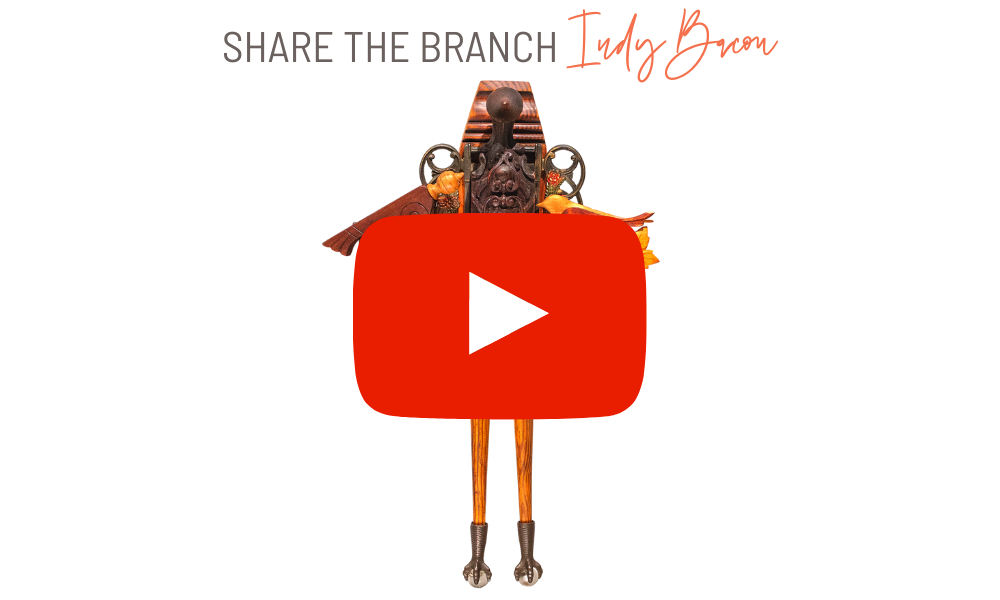 Share the Branch, Indy Bacon
18"w x 30"h
Mixed Media