About Heidi A. Marshall, Dart for Art Featured Artist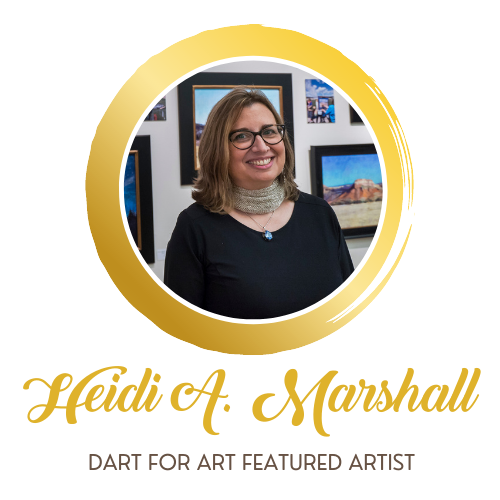 From the beginning, Heidi Amenda Marshall was immersed in an atmosphere that inspired and nurtured her creative interests. Growing up on the shore of Lake St. Clair in Grosse Pointe Farms, Michigan, and the banks of the Rhine in Dusseldorf, Germany, Heidi discovered her love of art through her father's work. William Amenda was the Chief Editorial Illustrator for the Detroit News, who also did courtroom sketches and editorial portraits, as well as pursued the fine arts through painting - a passion that was passed on to his daughter.
Heidi received her BFA from Albion College with a double major in English and Art. Later, she went on to earn her MFA  from Wayne State University in Writing and Comparative Literature.
During her impressive corporate career, Heidi wrote for Leo Burnett and Saatchi & Saatchi and was the Creative Director for Young & Rubicam Advertising. Along with print, she spent time working in television and radio, but it was the creative outlet of painting that surfaced as her true passion.
Now, a full-time professional plein air artist, Heidi channels her love of landscape and creativity through her preferred medium of pastels. Heidi's work favors diverse landscapes with special attention given to Northern Michigan's varied terrain, resplendent in sand dunes, lakes, woods, vineyards, and different climates. Having always possessed a desire to be a landscape painter in Northern Michigan, Heidi has fulfilled her dream, splitting her time between Petoskey and her adopted home in the Land of Enchantment, Santa Fe, New Mexico. 
Heidi's work has been exhibited in the Butler Institute of American Art, the Desert Caballeros Western Museum, and the National Arts Club, as well as included in numerous private, hospital, corporate, and university collections in the U.S. and Europe. Her art has also been featured in Plein Air Magazine, Southwest Art, Art of the West, and Pastel Journal. Heidi was the 2018 recipient of the International Association of Pastel Societies Paula Ford Award, and she received inclusion and an Honorable Mention in the Pastel 100 - a prestigious international Pastel Journal competition of 2021's 100 best pastels.
A previous CTAC juror, exhibiting artist, workshop instructor, and current Artist Guild Member, Heidi Amenda Marshall makes for a fabulous Featured Artist for 2021's DART for ART.
Visit Heidi's website to learn more!