About Alan Maciag, Dart for Art Featured Artist 2023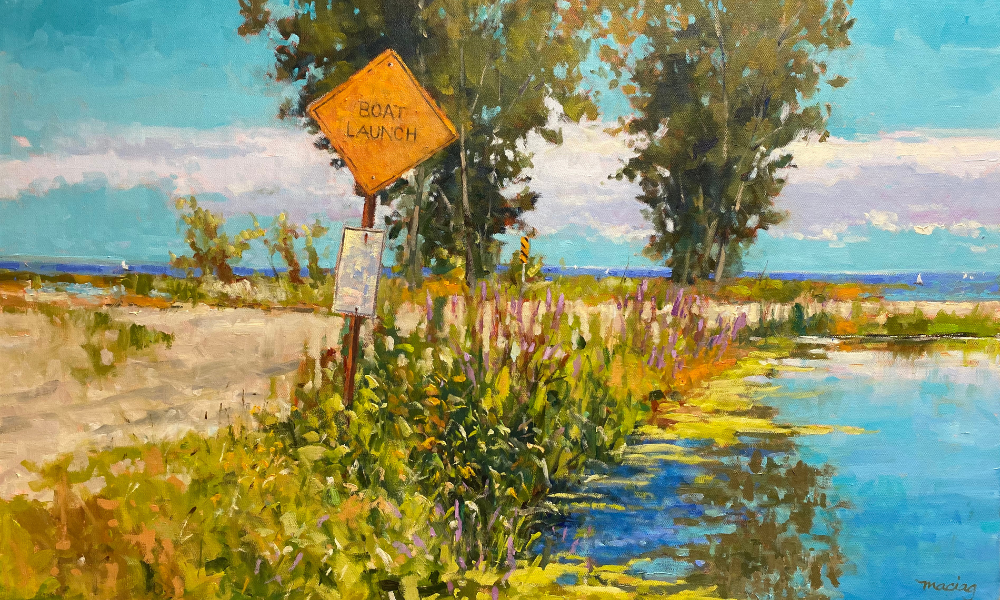 This year, we celebrate the arts with Dart for Art Featured Artist, Alan Maciag. Alan's featured piece, "Boat Launch," captures the spirit of Northern Michigan's scenic drives and lakeshore road trips that showcase the beauty of the Great Lakes State.

ABOUT ALAN MACIAG
Michigan artist Alan Maciag is a 1974 graduate of Central Michigan University with a masters degree in art education. He retired after teaching art for 32 years in the Frankenmuth School District.

In the awakening light of the early morning you might find Alan, a plein air painter, capturing the essence of the visual moments presented to him in the vast rural farmland around his home. When not painting onsite, Alan can be found painting in the garden paradise of his home. His backyard is a sanctuary for his creative thought. Alan's avid interest in architecture and gardening are recurring themes in his current body of work. 

Alan's rural landscapes are a balance between form, distance, color, and content. The balance creates a sense of calm and bucolic reverence for the rural heritage of Michigan, for the wonderlands of its vacation lakes, or for the sanctuary within a garden or public space. It is as though you have been given a gift — to simply "step in" for a moment and be surrounded by the spirit captured on this canvas.

Alan paints in his Midland studio and travels throughout the state painting on location. Alan's studio is located at 3927 East Monroe Road in Midland, Michigan. Studio tours can be arranged by calling (989) 245-5584.