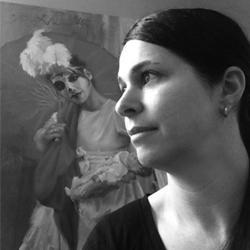 In 2012, based on her handful of pastel portraiture, the Scottsdale Artists' School awarded Tina the first of two merit scholarships and she began working in oil. She immediately fell in love with the medium and hit the ground running, dedicating 5 years to the full-time practice of understanding oil painting.
In addition to various recognitions by the Portrait Society of America, Oil Painters of America, and the National Oil and Acrylic Painters' Society, Tina is a two-time Purchase Award winner in the 11th and 12th International ARC Salons. Twice exhibiting at the Museum of Modern Art Europe (MEAM) in Barcelona, Spain, and the Salmagundi Club in New York City, Tina's works, "City Blues" and "String of Pearls" are now part of the Art Renewal Center's renowned permanent collection.
In 2016, Tina earned a designation of ARC Associate Living Master from the Art Renewal Center and a Master Artist designation from the National Oil and Acrylic Painters' Society. Tina has intently studied the Selective Start Method described in Alla Prima by living master artist and author, Richard Schmid; studied in workshops and private lessons with Romel de la Torre; and attended workshops with Case Baugh, Aaron Westerberg, Jeremy Lipking, Tim Deibler, Michelle Dunaway, Stanka Kordic, Dennis Perrin, and Kathy Anderson.
In the course of her serious pursuit of fine art mastery, Tina has created a growing family of private collectors and commissioned clients in the U.S., U.K., and the Netherlands, and is invited to teach workshops across the U.S. at private studios and art centers, including the Scottsdale Artists' School, Village Arts of Putney, Bountiful Davis Art Center, and the Brush of Spring Hoosier Salon as well as internationally in Tuscany & Florence, Italy. In 2019, Tina will teach her first workshops in Mexico, South Africa, and Brazil.
Tina is a proud Missouri State Ambassador for the Portrait Society of America, helping Missouri artists fully benefit from their PSoA membership. Tina is also proud to be a Cecilia Beaux Forum Member and 2018 Mentor.
Awards, Designations, and Memberships
Tina is proud to accept a Master Artist designation through the National Oil and Acrylic Painters' Society Signature Member Guild and an ARC Associate Living Master designation by the Art Renewal Center.
2018 In Gateway International Painting Competition January 2018 Best In Show ModPortrait at the Museum of Modern Art Europe (MEAM) Finalist Art Renewal Center 13th Annual ARC Salon Finalist in three categories
2017 International Artist Magazine Challenge #98 People & Figures Grand Prize Winner Oil Painters of America
2017 Shirl Smithson Memorial Scholarship
2016 Portrait Society of America Members Only Competition Finalist National Oil and Acrylic Painters' Society Best of America 2nd Place Award Art Renewal Center
2016 ARC Salon Purchase Award
2015 Finalist in Scottsdale's The Best and The Brightest Show National Oil and Acrylic Painters' Society Best of America Best Oil Painting by a Signature Artist Award National Oil and Acrylic Painters' Society Best of America People's Choice Award Oil Painters of America Fall Online Showcase Third Place (Associate Member) Oil Painters of America National Exhibition finalist Art Renewal Center
2015 ARC Salon Purchase Award Top 100 finalist, Figurativas
2015 Museum of Modern Art Europe, (MEAM, Barcelona, Spain) Portrait Society of America Annual Members Only Competition 7th Honorable Mention
2014 Finalist in Scottsdale's The Best and The Brightest Show National Oil and Acrylic Painters' Society Best of America Most Innovative Award National Oil and Acrylic Painters' Society Spring Online International Excellence Award National Oil and Acrylic Painters' Society Fall Online International Excellence Award Oil Painters of America Spring Online Showcase 1st Prize
2013 Finalist in Scottsdale's The Best and The Brightest Show National Oil and Acrylic Painters' Society Best of America Southwest Art Magazine
Merit Award
Juried Memberships Oil Painters of America — Associate Art Renewal Center — ARC Associate Living Master National Oil and Acrylic Painters' Society— Master Artist Portrait Society of America — Associate Portrait Society of America — Ambassador for Missouri Portrait Society of America — Cecilia Beaux Forum — Member & Mentor Galerîa Artlibre of Barcelona, Spain — Grand Author Gamblin Artist's Oil Colors — Dedicated Workshop Instructor