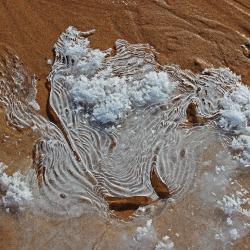 Music and nature have always been a huge part of my life, pretty much from the moment I was born.  Music is able to communicate the things I have a hard time saying; it's a language that spans to all life, not just human.  I taught myself how to compose without reading music notation.  Notes on the page always confused me and I just couldn't learn to read it.  So, I would just listen. Eventually I learned how to play piano.  Later, I started adding the flute and in 2014, I found the Native American flutes which have spoken to me more so than any of the other instruments.  Music is about the sounds we put together to tell the story; it's all of the pieces working together to make the whole.  One of my favorite sayings from Helen Keller - "Alone we can do so little; together we can do so much."
My interest in photography started when I made a pinhole camera in fifth grade.  Capturing images helps me to capture that moment in time I don't want to lose.  It tells me the story I want to remember.  When I capture images of architecture, people, nature, I can look at the image later and see a totally different story than what I may have seen initially.  When I put the music and the images I've taken together, they become my "sound paintings."  Sometimes, when I listen to the music and look at the pictures, I can forget all of the crazy, horrible things going on in my life for just a little while.  Then, when I have to face reality, I feel a bit more rejuvenated and can handle all the tasks I must once again.
As far as awards and honors, I have displayed in various events, entered contests and even won a few awards, but hearing someone say that listening to my music helped them through a challenge in their life or looking at one of my images helped them to understand a situation better; they could see a different point of view, well, those are the awards and honors that make me continue to do what I do.  For me, if I can help one person get through a tough situation in their life, I've accomplished more than I would have ever hoped...and then I will push on and, hopefully, help someone else.  
ARTIST STATEMENT
Instrumental music is a language understood by all.  It conveys emotion and meaning to all life, not just human.  It can affect one in a positive or negative fashion just by changing a beat or sound.  I write to communicate a positive, energetic, yet relaxing message to all those who would choose to listen.  Not adding lyrics allows one to be creative without being influenced by what someone is saying.  The music is interpreted by each individual as they see fit based upon their own experiences.  I just give them a positive direction and then the listener takes it from there.
On the photography front, it is my opinion that we are bombarded with thousands of images with no soul these days.  There are amazing images; shocking images as well, but the intent is no longer truthful.  The intent is greed and fame.  It's usually selling to and manipulating a society of people who have become complacent.  A picture tells a 1000 words, but those words can be manipulated by the photographer to make you believe that which someone wishes you to believe.  An angle, a color, a touch up.  All of those can be manipulated to change the narrative and make you believe something that is not.  My goal is to share a simple story; a truthful story and a bit of history.  The photo can be beautiful or it can be agitating, significant or otherwise, but it will be a moment, frozen in time, for others to view. 
Artists question and look for answers.  They preserve a culture; reflect the times.  Artists are thinkers and dreamers, creators and problem solvers, storytellers and historians.  They may dance, write songs, paint, sculpt, take photographs, weave, bead, draw or use some other medium, but every one has something to say.  It's up to us to listen.