CTAC - Traverse City is offering 50 FREE cardboard loom kits,  10 AM Friday, March 20.  
These kits will be available curbside at our front door.    
Once the kits are gone, they are gone.  
 If you have some art supplies you would like to donate contact Kristi@crookedtree.org. 
We hope to offer more kits in the near future. 
Kits will be created with supplies that we have available to us.
We'd love to see your weavings!  
Take a photo and use #isolationcreationCTAC to create our own virtual art gallery!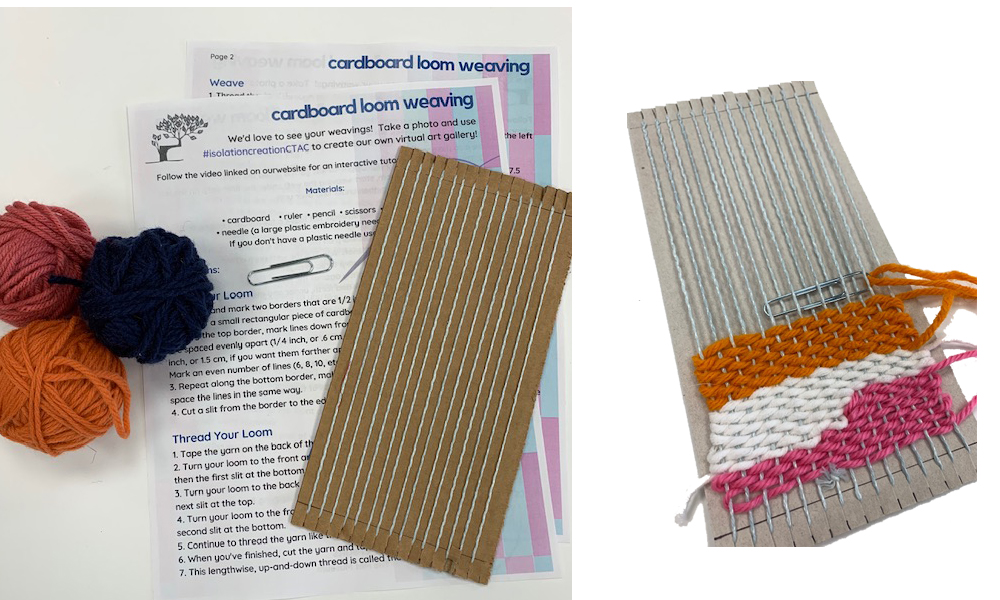 What is in the kit?
Cardboard loom (directions to make your own are in the instruction sheet attached and in the video links provided below)
Yarn
Large Paperclip (instead of a large plastic needle)
We are using paperclips instead of plastic needles due to limited resources.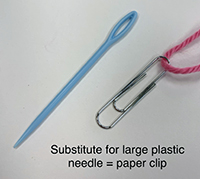 Tutorials
The Met Museum- Weave on a Mini Loom
Hello Hydrangea- Weaving a necklace
Weaving Materials-  Let's experiment.  What other materials can you use besides yarn?  Be creative.  CTAC has some "shredded aluminum" pop cans.   If you would like to try adding this to your weaving (not suitable for young weavers as the aluminum can be sharp) contact Kristi@crookedtree.org and we will package up some aluminum for your experimental weaving.

• Ribbon
• String
• Fleece
• Pipe cleaners
• Paper yarn
• Lace
• Wire
• Sticks and twigs
• Cord
• Plastic carrier bags • Raffia
• Fabric material
• Paper
• Foil
• Tissue paper
• Crepe paper
• Old computer cables • String
• Twine
• Leaves
• Leathers
• Newspapers
Local Resources-
Grand Rapids artist, Jennifer Ackerman-Haywood of Craft Sanity 
Check out her videos on YouTube and looms on her website.
Want to learn more about artists who have made an impact in the art of fiber and weaving.
Judith Scott (1943 - 2005)
http://judithandjoycescott.com/judith.shtml
The story of Judith and her twin sister, Joy.
Finding a Voice in Fiber
Internationally renowned American fibre artist Judith Scott. After observing a fibre artist she began to create unique sculptures. Binding, weaving and entwining threads. She created over 200 sculptures which can now be found with- in permanent museum collections around the world.
 

Gunta Stölzl (1897 - 1983)
Gunta Stölzl
History of textiles:  Gunta Stölzl
Hundred Years of Bauhaus:  Gunta Stölzl
German textile artist who became director of the weaving workshop at the Bauhaus in Dessau as well founding a hand weaving company.  The Bauhaus aimed to reunite fine art and functional design, creating practical objects with the soul of artworks.

Thomas Wardle (1831 - 1909)
Works of Thomas Wardle, England
Spent considerable time exploring the process of dying, his travels to India influenced his work. He collaborated with William Morris in Leek, where they experimented with dyes and printing, developing textile manufacturing.
 

Marianne Moodie - Contemporary Artist
Marianne Moodie