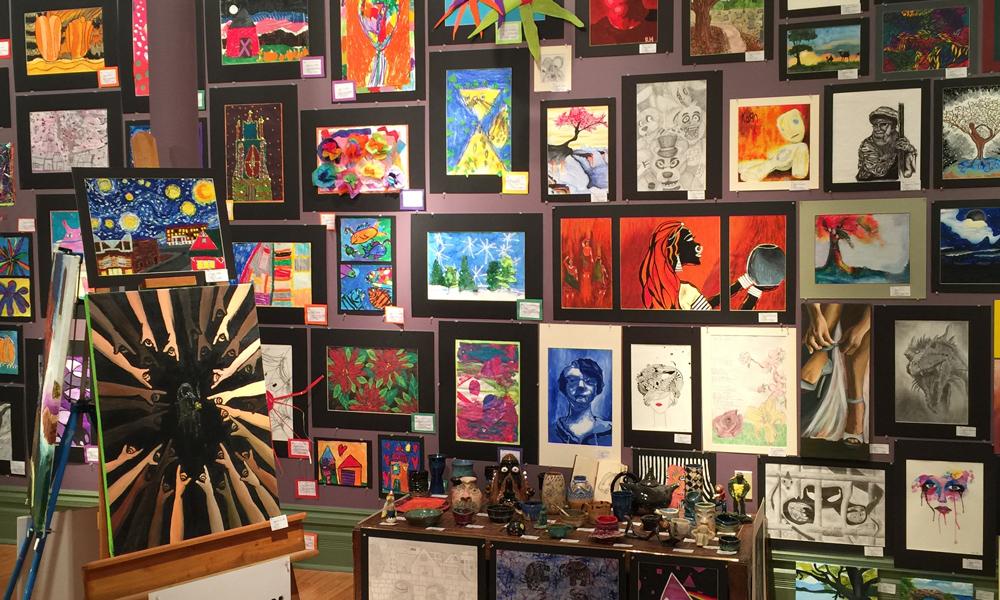 We are looking forward to our annual Youth Art Show! This is a very important community arts event, and we are grateful for all of the work that you do to cultivate creativity, exploration, skill, and confidence in our youth.
This joyful event, celebrates and showcases student art from the Charlevoix-Emmet County School District. The schedule for the spring 2018 Youth Art Show is:
Intent to Participate*
Please notify our Galleries Director by Wednesday, March 1, 2018 of your intent to participate.
Include: Your Name, School, Grades, Contact info, and any questions or concerns.
Click Here to Register Your School for the 2018 Youth Art Show
 
Delivery and Installation
Saturday, March 31, 2018, from 10 am - 4 pm  and
Monday, Tuesday, Wednesday and Thursday, April 2, 3, 4, and 5 from 10 am- 8 pm

Download 2018 Youth Art Show wall labels.

Download the 2018 Youth Art Show Reception invitation postcard.
Opening Reception and Awards**
Saturday, April 7, 2018, from 2 - 4 pm
Exhibition Dates
April 7 - May 5, 2018 (posted CTAC gallery hours)
De-installation***
Monday, May 7, 10-4**
Pick up
Monday, May 7, 3-5 pm
Tuesday, Thursday, Friday, May 8, 9, 11, 2018, 9 am - 5 pm
Wednesday, May 10, 10 am - 5 pm
Saturday, May 12, 10 am - 5 pm (all work must be pick up by this date)
*Once we receive your intent to participate and basic information, we will email you the label template..  
**The Youth Art Show Awards will be announced in the CTAC Theater this year. The Juror is retired art teacher, Mary Grosvenor. In addition to our Herlocher, 1st, 2nd and 3rd place awards, we are are excited to announce the new Morningstar-Bates Achievement Award: This​ ​$500​ ​scholarship​ ​is​ ​awarded​ ​to​ ​an​ ​outstanding​ ​junior​ ​or​ ​senior​ ​who​ ​demonstrates​ ​excellent artistic​ ​creativity,​ ​craftsmanship,​ ​and​ ​promise.​ ​This​ ​scholarship​ ​is​ ​available​ ​to​ ​any​ ​junior​ ​or​ ​senior across​ ​all​ ​media.​ ​Supported​ and selected ​by​ ​Anne​ ​Morningstar​ ​&​ ​Brian​ ​Bates.

*** A group of volunteers will help with the de-installation of the Youth Art Exhibition. Work will be carefully placed, in piles, organized by school and teacher. All works needs to be picked up on the dates listed above, and no later than 4 pm, on Saturday, May 12, 2018. 
Thank you so much for the work you do everyday! Please contact us if you have any questions or concerns. We look forward to meeting you this Spring!